AIGLE Macchine Srl: Flocking, Coating and Laminating Equipment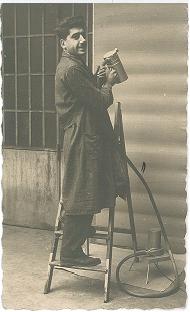 AIGLE began its activities in 1958 building machinery for the flocking of each type of application. During its first decade, AIGLE contributed greatly in developing the technology of flocking, with particular reference to its application in the textile industry. In 1968, AIGLE began undertaking the production of coating and lamination machinery which was considered as natural evolution from the previous products.
Today, after more than 60 years of design, AIGLE produce and sell its machines worldwide. AIGLE can definitely be considered as a partner for the development of new projects, through the provision of solutions for customers who require elements of customisation and specific technical requirements.
All the plants and the machines are designed and produced in AIGLE's factory which is located in Borgaro Torinese, Italy.
AIGLE's organisation consists of:
- An engineering department for mechanic, electric, pneumatic, thermic and hydraulic design, which is fully equipped for the industrial design of the plants and machinery with a 3D CAD system.
- A production department equipped with modern tools and instruments along with a prestigious carpentry sub-section.
- An electric/electronic department for studying and creating the control panels and PLC programming required per each plant (they also provide a manual for the wiring).
- Technical and technological assistance for erecting and commissioning the equipment as this is considered a crucial part in the selling process of AIGLE's industrial culture.
AIGLE heavily invests in research and development, specifically for updating and increasing the level of performance of their FLOCKING, COATING and LAMINATION plants, counting on a qualified technical team for the construction, as well as for the design of the plants and individual machines. The result of these efforts is the installation of machines that allow our customers to cope with the challenges of an increasingly demanding market.
In over 60 years of business, AIGLE has accumulated a vast experience in handling relationships with customers. AIGLE can offer ready and substantiated technical solutions to customers with precise and defined needs and technical requests; but AIGLE can also be considered a partner for developing new projects to face the ever more demanding and complicated market requests.
AIGLE's main plants list:
- Plants for rubber profile extrusion and flocking, for the rubber profile for the automotive industry.
- Plants for the production of synthetic leather, for use in upholstery, garments and automotive.
- Plants for the finishing of fabrics, by direct and foam coating and printing (traditional and digital), for use in upholstery, curtains, garments and automotive.
- Plants for the production of abrasive paper.
- Plants for the finishing of wall paper, flocking, PVC coating and embossing.
- Plants for the back coating of carpets and synthetic grass with latex and PU.
- Plants for the laminating of fabrics through wet process, powder scattering, hot melt and flame.
- Plants for manufacturing and finishing, by thermo-bonding non-woven for geotextiles.
- Plants for manufacturing and finishing non-woven fabrics for house cleaning.
- Plants for finishing with flock injection moulded ABS and PP for automotive and children's toys by manual and/or robotised technology.
- Plants for finishing by printing (UV, PVC, pigments etc.), flocking and glittering paper (continuous and in sheet form) for packaging and decoration.