ELECTROPNEUMATIC FLOCK DISTRIBUTOR FOR OBJECT FLOCKING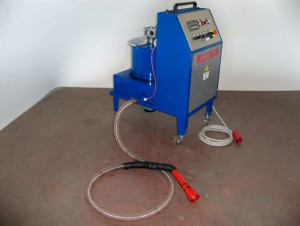 The Electro-pneumatic Flock Distributor for Object Flocking has compact sizes and easy handling to allow industrial productions and/or sampling.
The unit consists of two separate elements:
The containing/dosing group
The spraying group
The containing/dosing group is a special flock container. There is a brush that can rotate at variable speeds and it feeds the flock in a constant and adjustable way to the air/flock mixer. Afterwards, through a special fan, the flock is sent to the spraying group.