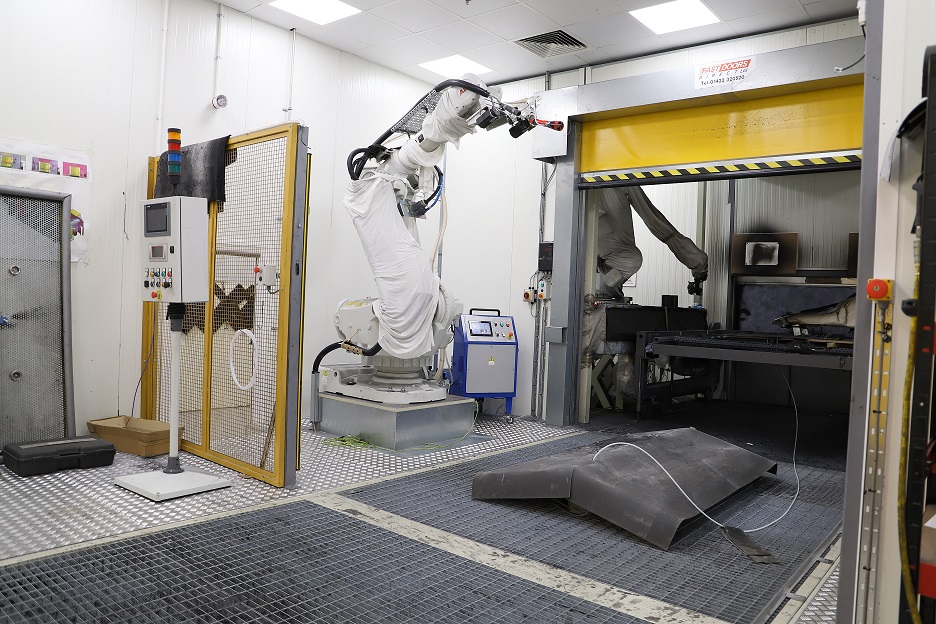 FLOCKING LINE FOR BIG DIMENSIONS OBJECTS
Technical Features
FLOCKING LINE FOR BIG DIMENSIONS OBJECTS
OPERATING SYSTEM (RELATIVE HUMIDITY AND TEMPERATURE CONDITION CONTROLLED BY AUTOMATIC CLIMA SYSTEM)
One or two operators place the object to be flocked on the foreseen holder.
Object holder is sliding over rails. The first station is the cabinet for coating glue, the second is the flocking and pre-cleaning cabinet. Finally, the holder goes out of the rails and manually put into an oven for drying. After drying the holder is fixed back into the rails for final cleaning.
No.2 robots apply the glue by spraying gun in front of a suitable recovery cabin.
Then the object is sliding in the flocking zone with double hopper for electrostatic flocking.
No.1 robot is holding the hoppers that applies flock. The same robot can alternatively or simultaneously hold an electro-pneumatic gun.
A further electro-pneumatic flocking is done manually by operator.
The operators shift the object into a kiln oven.
After this phase, the operators make also a necessary quality control.
Technical Data
400 Volts, three-phase, 50 Hz