04.04.17 - 07.04.17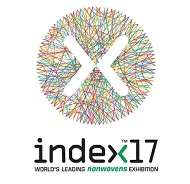 4-7 April 2017
Geneva - Switzerland
Stand 4145
INDEX™17, the World's Leading Exhibition for nonwovens and related industries.
Once every three years INDEX in Geneva becomes the epicentre of the entire industry, bringing together industry professionals from around the world to see all the latest developments in the nonwovens field.
INDEX™17 will gather the key players from the dynamic nonwovens industry to present their latest innovations and business opportunities to a global audience, with a compelling programme including special events and 'taster' training courses.
INDEX™17 will provide a 360° overview of the very latest developments in nonwovens and is the ideal opportunity to experience the market first hand, and to enjoy the enriching professional and personal experience that a visit to INDEX can bring.