PRE-DRYING UNIT FOR ROTARY SCREEN PRINTING MACHINE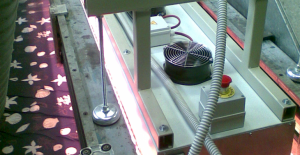 The Pre-Vulcanization Unit - mod NIRV - 101 has 6 sections. Each section has two infrared lights; each lamp has an approx. length of 960 mm. The temperature of each zone can be adjusted separately via the PLC system.
- Max surface temperature of NIR heaters : 1.880°C
- Electrical energy requirement : approx. 34 Kw
- The NIR zones will be cooled with a special designed water-cooling system, therefore non separate cooling is required.
- Max. consumption per minute : approx. 15 l/min 60 psi
- Entry temperature of water : max. 37°C
- Temperature of the NIR Unit is adjustable in percent (0-100%) via the PLC system for each section separately.
- Working heights can be adjusted between 1.000-1.200 mm.
- Total lenght of unit : 700 -1.000 mm.
View PDF Attachment